Commissioner Jonathan C. Kinloch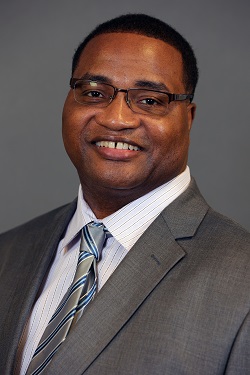 Commissioner Jonathan C. Kinloch,
Appointed to the DWIHN Board of Directors and also serves as a Wayne County Commissioner, filling the seat once held by the late Jewel Ware. As a County Commissioner, he is a member of the Committee on Ways and Means, Committee on Public Service, Committee on Seniors and Veterans Affairs and the Committee on Public Safety, Judiciary & Homeland Security; Vice Chair of the Special Committee on The Criminal Justice Complex and a member of the Special Committee on Behavioral Health.
Kinloch serves as Chairman of the Detroit/Wayne County Port Authority, Commissioner on the Detroit Board of Water Commissioners and is a Board Member at One Detroit Credit Union. Kinloch has served on the Detroit Library Commission, Detroit Board of Education and the Wayne County Board of Canvassers, where in November 2020, he garnered national attention when he resisted efforts not to certify Wayne County's 2020 Presidential Election results. While serving on the Detroit Board of Education, he introduced a number of policies which remain with the district today. He's most proud of his role in the creation of the Office of Inspector General and the DPS Police Department. He has also worked as the S.E. Michigan Community Liaison to Michigan's Governor Gretchen Whitmer.
Currently, he's Political Director for SEIU Healthcare Michigan and is Chair of the 13th Congressional District Democratic Party and serves as the 3rd Vice Chair of the Michigan Democratic Party.